What can one say of a woman about whom so much has been written, this doyen of Serbian journalism, what to ask her that others have not asked her before, how to even start answering? Questions – a million questions are in my head as I hurry down the cobblestones of Skadarlija Street to see her. One who's interviewed the most famous writers, politicians, prime ministers – the unique Mira Adanja Polak – agreed to see me.
My heart beats harder and faster than when I went on my first date. I don't know if my knees are trembling because of that or the cobblestones, so I stumble and barely regain my balance to stop myself from falling. I stand at the entrance to the garden trying to compose myself. I see her sitting at the table, dignified, beautiful and elegant, enticing the looks of guests at nearby tables. Enjoying her own company. And radiating. I approach the table like a first-year school pupil approaching their teacher, not only with enormous curiosity and admiration, but also fear. She greets me like an old friend, with a warm smile despite meeting for the first time. She's a professional who can see in my eyes not only badly concealed fear and childish curiosity, but also genuine endearment. Two points of common interest that we soon discover over coffee are our loves – for the written word and for London. Travel, minor and major joys and pains, little parts of our lives that have similarities, differences, love for our homeland. And so on successively, Topic after topic unfolds and ends, and the whole time she looks at me. That look penetrates to my core, then she smiles beautifully.
A smile because she knows me.
And that's one of the most beautiful things in the world – someone who understands and feels you. At that moment, it became clear to me why Indira Gandhi, Shimon Perez, Graham Greene, Márquez, David Rockefeller, Lord Carrington, and hundreds of others revealed to her what was locked within them. It wasn't just her knowledge of them or the topics of conversation, but also that sense of understanding and feeling. That smile of hers and her eyes told them that clearly, as they told me now.
And her? Does anyone know her? Does she want anyone to know, and how much? Her for whom everyone she interviewed was always more important than her?
Exclusively for Artem, Mira Adanja Polak reveals a small part of herself, a story about the first time she stayed in London, her first observations about the English and the beginning of her love for them. Before you is Mira's story…
-I'd just finished gymnasium high school… My parents, to the amazement of those close by, sent me to London to learn the language by working and helping out around homes. My father, a doctor, knew a family that needed assistance. In the opinion of my parents, that was a good home, good English, a steady way of life, but it was really faraway. Today it's still faraway for me. I remember the address as Dora Street Wimbledon, the home of Douglas and Milica Wass. He is a member of parliament, measured, kind, read the newspapers and taught me accents. He read all the newspapers and said to me, "Mira, you must always have your own truth, and you'll have that if you read a lot, you have no prejudices and don't get angry at those who think differently. That's a condition for objective thinking and freedom".
It was only much later that I met a man who worked in the cabinet Margaret Thatcher, who praised my efforts and asked: "When did you come to England?" I said, "Well, as a young girl in the home of Douglas Wass, to which he said to me, "He was my teacher, and I can tell you that you got the best the English…"
And I washed teacups, carefully measured how much water and long it should stand and for everything to be to the right taste… for that to be what was sought from me.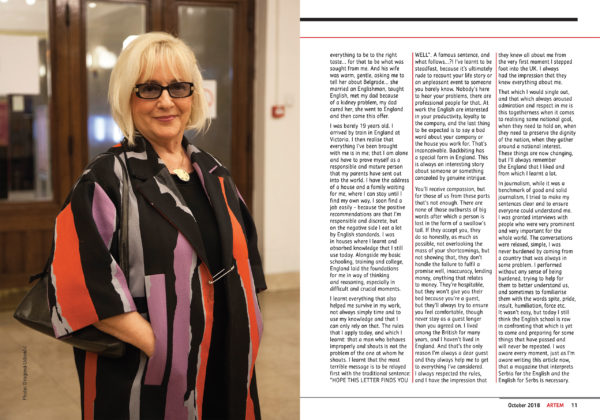 And his wife was warm, gentle, asking me to tell her about Belgrade… she married an Englishman, taught English, met my dad because of a kidney problem, my dad cured her, she went to England and then came this offer.
I was barely 19 years old. I arrived by train in England at Victoria. I then realise that everything I've been brought with me is in me; that I am alone and have to prove myself as a responsible and mature person that my parents have sent out into the world. I have the address of a house and a family waiting for me, where I can stay until I find my own way. I soon find a job easily – because the positive recommendations are that I'm responsible and discrete, but on the negative side I eat a lot by English standards. I was in houses where I learnt and absorbed knowledge that I still use today. Alongside my basic schooling, training and college, England laid the foundations for me in way of thinking and reasoning, especially in difficult and crucial moments.
I learnt everything that also helped me survive in my work, not always simply time and to use my knowledge and that I can only rely on that. The rules that I apply today, and which I learnt: that a man who behaves improperly and shouts is not the problem of the one at whom he shouts. I learnt that the most terrible message is to be relayed first with the traditional sentence: "HOPE THIS LETTER FINDS YOU WELL". A famous sentence, and what follows…?! I've learnt to be steadfast, because it's ultimately rude to recount your life story or an unpleasant event to someone you barely know. Nobody's here to hear your problems, there are professional people for that. At work the English are interested in your productivity, loyalty to the company, and the last thing to be expected is to say a bad word about your company or the house you work for. That's inconceivable. Backbiting has a special form in England. This is always an interesting story about someone or something concealed by genuine intrigue.
You'll receive compassion, but for those of us from these parts that's not enough. There are none of those outbursts of big words after which a person is lost in the form of a swallow's tail. If they accept you, they do so honestly, as much as possible, not overlooking the mass of your shortcomings, but not showing that, they don't handle the failure to fulfil a promise well, inaccuracy, lending money, anything that relates to money. They're hospitable, but they won't give you their bed because you're a guest, but they'll always try to ensure you feel comfortable, though never stay as a guest longer than you agreed on. I lived among the British for many years, and I haven't lived in England. And that's the only reason I'm always a dear guest and they always help me to get to everything I've considered. I always respected the rules, and I have the impression that they knew all about me from the very first moment I stepped foot into the UK. I always had the impression that they knew everything about me.
That which I would single out, and that which always aroused admiration and respect in me is this togetherness when it comes to realising some national goal, when they need to hold on, when they need to preserve the dignity of the nation, when they gather around a national interest. These things are now changing, but I'll always remember the England that I liked and from which I learnt a lot.
In journalism, while it was a benchmark of good and solid journalism, I tried to make my sentences clear and to ensure everyone could understand me. I was granted interviews with people who were very prominent and very important for the whole world. The conversations were relaxed, simple, I was never burdened by coming from a country that was always in some problem. I performed without any sense of being burdened, trying to help for them to better understand us, and sometimes to familiarise them with the words spite, pride, insult, humiliation, force etc. It wasn't easy, but today I still think the English school is raw in confronting that which is yet to come and preparing for some things that have passed and will never be repeated. I was aware every moment, just as I'm aware writing this article now, that a magazine that interprets Serbia for the English and the English for Serbs is necessary.
(Svetlana Meiehofer, ARTEM, October 2018)
Lakše ćete pratiti šta radim i emisije koje želite da pogledate ako preuzmete aplikaciju za Android i iPhone.